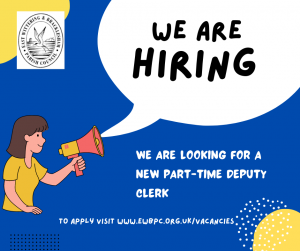 East Wittering & Bracklesham Parish Council
Vacancy for Deputy Clerk, 25 hours per week (SCP 13-17) (£23,023-£24,920, £14,758-£15,974 pro-rata)
East Wittering and Bracklesham Parish Council are looking to recruit a new Deputy Clerk to join our team. We are a proactive council that works hard to deliver a range of services for our residents, including a popular school holiday club, community food pantry, various parks and open spaces and Bracklesham Barn Community Centre.
The Parish Council has 11 Councillors and various committees and working groups covering Assets & Open Spaces, Planning, Staffing, the Community (BREW) Vision and the Environment. The Council has representatives on many local groups and organisations.
The Postholder will support the Parish Clerk in delivering the work of the council, deputising when required and ensuring the smooth running of the Community Centre at Bracklesham Barn. Strong communication skills both written and verbal are essential.
The successful application should hold a CiLCA Qualification or be willing to obtain one within 15 months.
The Deputy Clerk will be a strong team player with knowledge of financial processes and will be prepared to be equipped with the knowledge needed through a robust training programme.
Closing date for applications is 5pm on Friday 22 July 2022, with interviews being held on Thursday 4th August 2022.
For more information about the post please call the Parish Clerk on 01243 673588 or email enquiries@eastwitteringbrackleshampc.org.uk.
DEPUTY CLERK Job Description June 2022
DEPUTY CLERK PERSON SPECIFICATION June 2022
Job application form hard copy for handwritten applications